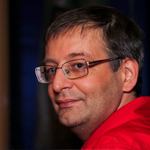 This is not the first time that Parallels has supported CEE-SECR, why?
This is the right crowd of IT people, where every year we find good companies and good programmers. We use the SECR event to share our experiences on the development process at Parallels and to learn something new.
Presentations are being made at the conference by speakers from your company. Could you say a little something about them?
There are to be three speakers from Parallels. These people are the best-of-the-best of their kind, and are the 'backbone' of Parallels. On the first day [of the conference] we look at how to determine whether a product is ready for release or whether to continue testing, which, as you know. can go on forever. On the second, Anya Vorobyova, one of the few women capable of developing kernels, will talk about the decision to save or discard generated code. And right after lunch on the same day there will be a talk about whether there is a difference in program management between start-ups and mature companies. I would advise everyone to attend these talks, because they will contain exclusively practical information.
You were there when Parallels was founded. After coming such a long way with the company, is there anything one must absolutely do to be successful in the industry?
I am sure that this question has no straightforward answer. Everyone has his or her own idea on the subject. For me, a successful business is impossible without a team – even the right idea is secondary. So unity and a common understanding of the ultimate goal is the salvation of any start- up. The importance of external influences on a small team is greatly exaggerated. All difficulties arise from problems within the organization.
What challenges had to be overcome along the way at Parallels?
We came up against every challenge we possibly could. And not because we were stupid, but rather because all start-ups that are begun by inexperienced people must pass through this phase. If only our team had had at least some experience working on decent software projects when we started, had had a chance to learn from the inside how the engineering business works, many of the early mistakes could have been avoided.
In interviews you often touch on the topic of startups in Russia. Is there a 'fashion' for start-ups and how do you feel about that?
Nowadays, everyone is talking about startups. Even we at SECR talk about the differences between products created by a small team versus those produced by a large number of developers. Dmitry Martynov, the program manager for the last four versions of our most popular solutions that allow private users to work with Windows applications on Mac, will touch on this. Now he is responsible for the development of Parallels Mobile, which is a small project within a mature company and new direction for us. He will share his impressions on the differences.
It is plain that there is a fashion for startups, and this is actively encouraged by the state. I am talking about all of these innovation projects such as Skolkovo, RVC, Kazan Technopark, etc. I think it's wonderful. At the very least, it creates new businesses in the country. Today's startups in this area are much more fortunate than we were in the 90s. Then the problems of business did not interest the state.
True, there is a flipside to this fashion for startups. Too many talented programmers just graduating from university do not understand the importance of such an important resource as time. They do not think that experience comes only through work. To learn all about how the engineering business works as soon as possible would make sense. Then the voyage would be easier and it is more likely that the results would be predictable.