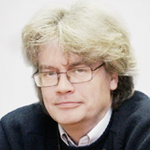 St.Petersburg-based First Line Software is this year's Silver Sponsor. First Line has been supporting SECR since 2010, its first year of operation. In less than 3 years First Line has evolved from essentially a small startup into a successful and reputable provider. CEO Alexander Pozdniakov explains the reasons behind the success.
How have you been able to break into the Eastern European software outsourcing market and position yourself among the leaders in such a short time?
It is true that in just under 3 years we have made the journey that had taken many outsourcing firms much longer to complete. We are now at over 350 global employees and are still experiencing robust growth. I am especially pleased to report that First Line has been included in two recent ratings of the world's top outsourcing companies, the Global Services 100, which is published by the Global Services magazine, and the IAOP Global Outsourcing 100.
Although technically First Line opened its doors in December 2009, the core management and engineering team behind the company has been working together in the software outsourcing industry for almost 20 years. We have delivered hundreds of challenging projects for some of the world's most demanding customers. The skill and experience we have accumulated in the process enable us to navigate successfully the complex process that is outsurcing of software development, and to deliver real value to out clients.
Software development as such is a highly involved social process whereby many smart people are working together with complex knowledge, solving difficult problems. To organize this process effectively is no easy task in and of itself, even before you factor in the outsourcing, or distributed, aspect of it; once you introduce several locations, languages, cultures, time zones, etc., the problem obviously becomes even more challenging. Our wealth of experience is what enables us to set up projects in such a way as to make working with First Line easy and productive for our customers.
We are often asked by prospects why they should prefer First Line over other competitors, what makes us unique. Well, I actually believe that "uniqueness" is often overrated. I agree with the premise of a great business book by Barwise and Meehan called "Simply Better: Winning and Keeping Customers by Delivering What Matters". Most customers don't actually need a UNIQUE provider; what they need is a provider that will do a reliably good job. Well, I am convinced that for a great many jobs, we are that provider, and that is what we strave to be at all times.
Another factor that I believe determines our success is our culture. In order to consistently delight your customers and maintain a productive environment, you need to remain lean and "hungry" like a startup, if you will, to be a place where people are excited about their job and can work together smoothly. Preserving this kind of atmosphere when you are 350 people strong (and being profitable hwile doing that) is no mean feat, and yet that is what I think we have been able to do. This culture has been our "secret ingredient" for 20 years. We are a very cohesive team, which is uncharacteristic of a company our size. This distinct cultural identity that attracts precisely the kind of person we want: creative and driven professionals who have fun doing what we do. Without that, success in the services business like ours is not possible.
This year's program at CEE-SECR features a lot of presentation touching on Agile development methods. How relevant is this for you?
Agile is more than relevant to us, so we will definitely be paying close attention to the presentations by our colleagues. Our team has a strong track record of success applying Agile methodologies in the distributed setting of outsourcing. We were one of the first ones in the industry to massively use Extreme Programming and later apply distributed Scrum to large scale outsourced projects, which was discussed in detail by Dr. Jeff Sutherland, one of the inventors of Scrum, in his presentation at last year's conference. I'm not sure we can take the credit for "teaching the world how to do distributed Scrum" as Jeff suggested, although it is both very tempting and very flattering. In any event, Agile is an essential part of this company's DNA.
What is your experience with using Agile on the projects you deliver for your Russian clients?
The Russian market is very important for us, as it accounts for 20% of our revenues. About 5 years ago Agile was virtually unknown to the Russian clients. However, this situation has been rapidly evolving, and Agile has been taking hold, so we now find ourselves using some flavor of Agile on many of our Russian projects as well. In fact, one of the talks to be delivered by First Line experts at this year's conference specifically deals with our experience of running Russian projects with Scrum, and how we have been working on making it an effective tool for maximizing customer value. I hope this presentation gives some food for thought for our colleagues in the industry.
Related links: